School Council
At Prospect Hill Infant and Nursery School, we are proud to have pupil representatives from each class to take part in School Council meetings. There are 12 members which are elected by their classmates every September, and they meet once a month, with Mrs. Wain, to discuss issues and report on the ideas of their classes.
The objective of an effective School Council is to:
Enjoy and feel empowered by their education.

Feel that their school responds to their needs and views.

Have the opportunity to let adults know their feelings and opinions about things that affect them.

Have a say about decisions, and to play an active role in making their school a better place.

Develop life skills through participation and co-operation.
A School Council Suggestion Box and Notice Board are located at the main entrance. Our children are encouraged to use the suggestion box to help improve our school.
Meet our 2021/2022 School Councillors.
This year School Council will continue to plan events to help raise money to improve our KS1 playground.
We had our first meeting of the year on Friday 12th November. We discussed our first fundraising event and jobs we need to do over the coming school year. It's going to be busy, but we are looking forward to it.
Take a look at our Prospect Fundraising page too.
Our last school council meeting of the year.
What a busy year we have had!
We had our last school council meeting tonight, Tuesday 26th July. We signed a few letters and finalised a few things, then after a biscuit and a drink, our job was done.
School Council.
The children have had a busy year doing lots of fundraising activities and other jobs around school. They have certainly stepped up to the mark through yet another difficult year due to Covid. The children have had so many wonderful ideas and we have had some lively, entertaining discussions recently. Scroll down to see what we have been up to.
I would like to say a BIG thank you to the children who have been a pleasure to work with, and to their families who have supported us by allowing the children to stay for after school council meetings over the last few months!
Mrs. Wain.
Here's what our councillors said....
"I really enjoyed doing the health and safety walks because it keeps us all safe around school."
"I loved being the letter writer for school council."
"It was great signing all the thank you letters to people who helped us with raffle prizes and stuff for our fundraising events."
"The decisions we made on behalf of our friends have helped improve our school."
"Being a school councillor is an important job and our friends ask us for help sometimes."
Summer Raffle - July 2022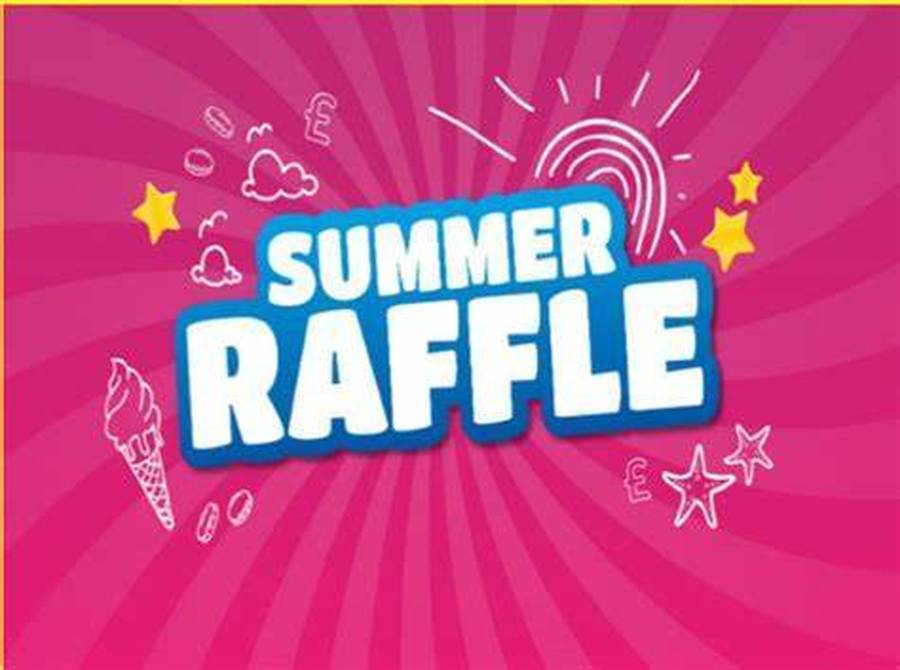 After the success of the sports week fundraiser, we jumped straight into organising our last event of our School Council year, the summer raffle.
We wrote to lots of local businesses and clubs asking if they could donate raffle prizes and some of them were very kind and said they could help us.
We received some amazing hampers and books from Asda, Tesco, Morrisons and Premier Foods. Dinnington Rugby Club and The Deep at Hull were really kind and donated family admission tickets so the winning families can have fun day out. Lots of other prizes were donated by kind people too.
Thank you everyone!
We raised a HUGE £220
Thank you to everyone who bought tickets for your continued support.
The proceeds from this event will go towards a Buddy Bench on our new playground.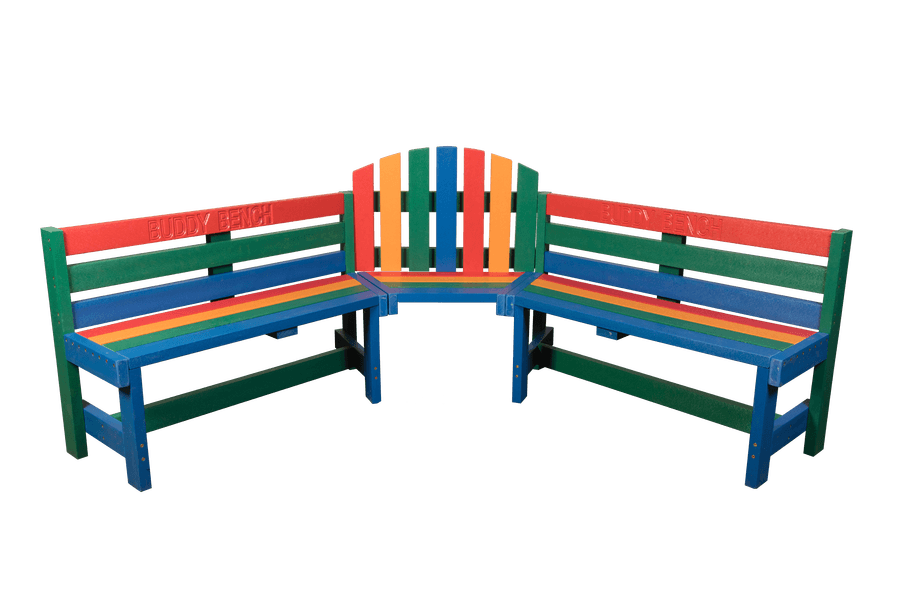 Take a look at our Fundraising page for more details about our summer raffle.
Dinnington Rugby Club also offered to come into school, free of charge, and give our year 2's a tag rugby taster session. This took place on Friday 22nd July and the children really enjoyed it. Unfortunately, it was a very rainy afternoon so we had to use the hall instead of the field but it didn't spoil the fun.
We would like to thank Elaine for organising this for us, and the coaches, Todd and Stewart for coming into school to show us how to play tag rugby.
Here's what some of our year 2's said...
"I thought it was really nice because I like rugby."
"It was fantastically brilliant."
"They taught us how to do a try."
"My favourite thing was trying to catch the ball."
"I enjoyed throwing the ball with a partner
and learning something new."
"I loved the game of tag rugby
It was so much fun."
"They taught us what to do and what to wear
and I really enjoyed learning how to throw and catch
a rugby ball."
National Sports Week Fundraiser
20th - 24th June 2022
Since our last meeting on the 14th June, which took place after school this time, we have been busy organising a fundraiser for National Sports Week.
We decided to arrange two activities, 'Name the Bear' and 'How Many Sweets in the Jar?'. These activities will be open at each event over the week where our grown up's are invited.
This event raised £150. Thank you to everyone who supported us and well done to the winners.
Take a look at our fundraising page for more details.
We also decided at this meeting to hold a Summer raffle. We have written to local businesses asking if they could help us with raffle prizes. The raffle tickets will go out within the first few weeks of July and will be drawn on Friday the 22nd July.
Keep an eye on our Fundraising page for more details and how much we raised.
We were asked by Asda to send in some Jubilee artwork for a display in their Worksop store.
We asked all this classes in school and we were given some lovely portraits of the queen and some amazing Jubilee themed computing work. Asda loved the artwork and it was put on display. If you didn't see it, have a look at the picture below, you might see yours.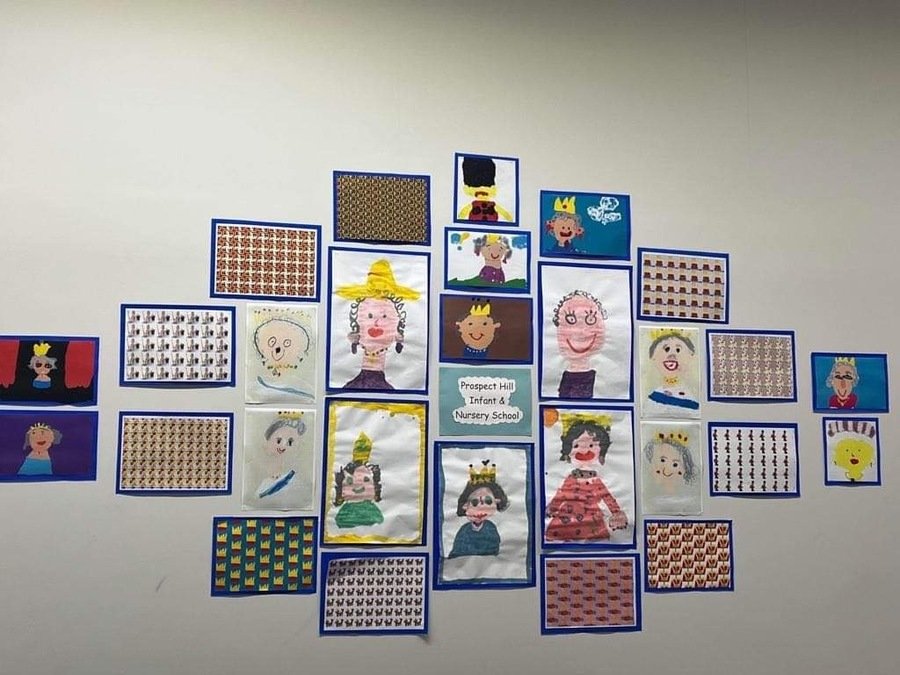 Fundraising Skydive & Design a T-shirt Competition.
Easter 2022
On Saturday 2nd April Mrs Wain took part in a tandem skydive to help us raise money for our playground project.
We asked our friends in school to help design a t-shirt that Mrs Wain could wear on the day. We had lots of lovely entries and some of our Governors judged the competition for us. The prizes for the winning designs were given to us by ASDA in Worksop.
We have raised over £1000 so far.
Thank you to everyone who has donated to the Just Giving page.
Have a look at a few of the lovely designs
There were four pictures on the front of the t-shirt, one from each year group, and a word design on the back.
Thank you to everyone who entered.
Well done to our winners!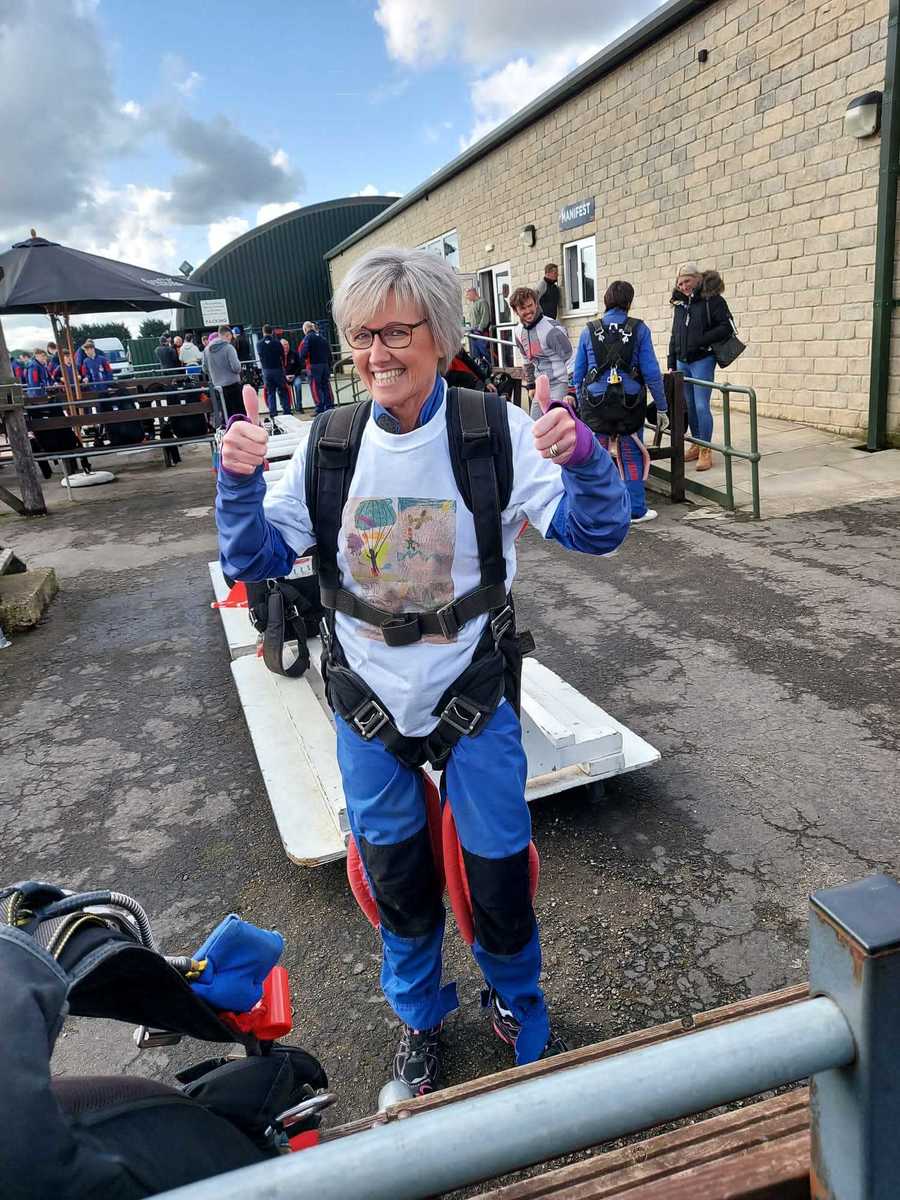 Have a look at our fundraising page to read Mrs Wain's story about her skydive and find out more about how much we raised.
Our first job was to plan a fundraising event for Christmas. The first thing we decided to do was organise a Christmas bauble decorating competition. We bought some baubles, had the little tags kindly donated to us and sold the baubles to the children who wanted to take part. Some of our Governors agreed to judge and we wrote to local supermarkets asking if they could donate some prizes for our winners. Tesco and Morrisons were brilliant and sent us some prizes which we made into activity hampers. The entries were all amazing and our Governors had a very tricky job.
We raised £151. Thank you to everyone who entered, your designs were incredible.
Unfortunately, due to COVID, our singing events had to be cancelled so our plans had to be changed, but that didn't stop us.
We decided to set up some hot chocolate treat tables around school. We asked for donations for the treat packs and reindeer food to be placed in out honesty tins.
Your support and kind donations raised £144.
Take a look at our Fundraising page for more details and to see some photographs.
****************************
Look at what we did in 2020/2021
Due to COVID 19 we were unable to do council meetings, organise our usual fundraising events and visit our friends at Beech House Care Home. We hope to start our meetings as soon as possible.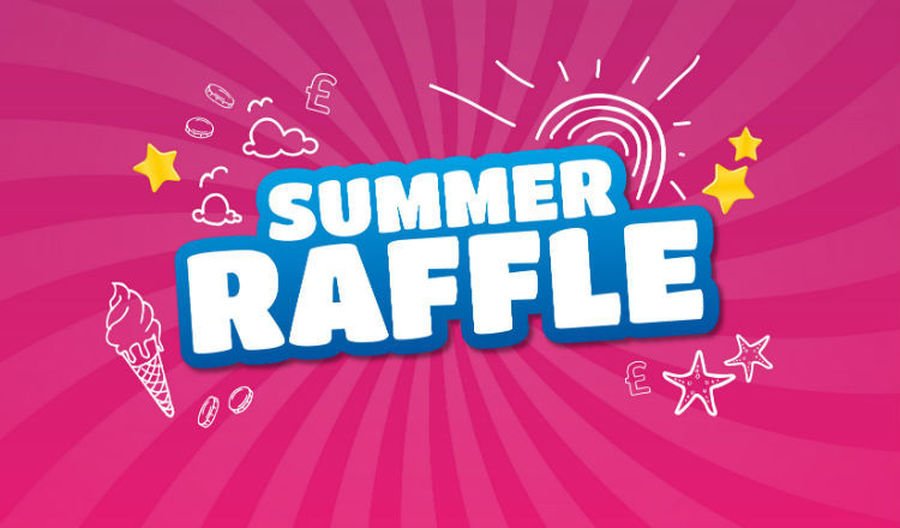 Our summer raffle was a great success again this year, and it helped us to raise money for our KS1 playground improvements. We wrote to our local supermarkets asking if they could donate a raffle prize, they were very generous and donated lots of lovely hampers. Thaymar Ice Cream Tea Rooms sent us a voucher and we applied to The Deep for a family ticket. A very tasty picnic platter was kindly donated too.
Here are the winning ticket numbers.
Pink 271 - The Deep, family pass
Pink 544 - £10 Thaymar ice-cream voucher
White 105 - Tesco BBQ hamper
White 23 - Morrisons hamper
Pink 605 - Asda children's activity hamper
Blue 734 - Asda children's activity hamper
Blue 712 - Asda children's activity hamper
Yellow 127 - Asda children's activity hamper
Yellow 204 - Asda children's activity hamper
Pink 292 - Asda children's activity hamper
Pink 548 - Asda children's activity hamper
White 893 - Asda children's activity hamper
Pink 440 - Asda children's activity hamper
Yellow 178 - Asda children's activity hamper
White 467 - Picnic platter
Pink 67 - Children's activity book
Congratulations to all our winners and thank you to everyone for your support.
Have a look on our Prospect Fundraising page to find out how much we raised.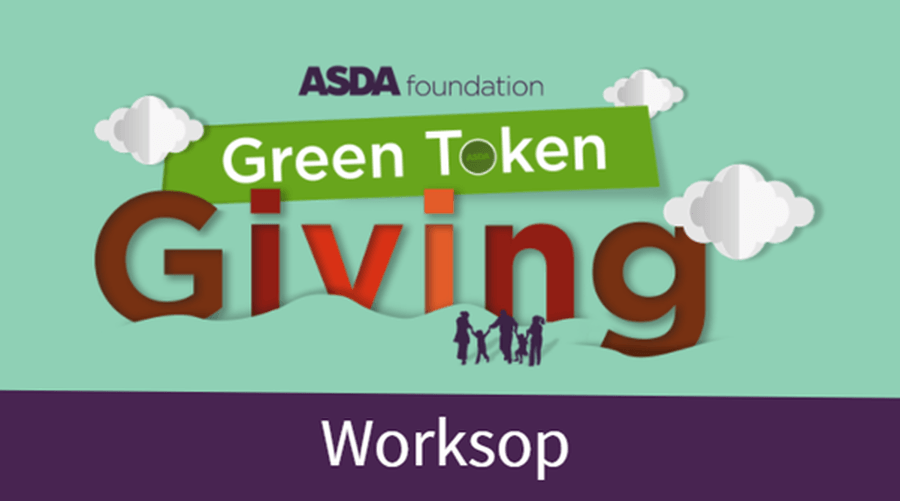 On behalf of our school we applied to Asda to take part in their Green Token Giving scheme to help with our playground fundraising efforts. . We are so happy that we have been accepted. Unfortunately, there are no boxes in the store this year due to COVID, but you can now vote for our school online using the link below. Watch out for Marvellous Me messages for updates and keep an eye on our fundraising page too.
Thank you for your support everyone.
https://www.asda.com/green-tokens/store?store=4425
Easter Colouring Competition 2021
On behalf of our school council, some of our Year 2 councillors helped to organise an Easter colouring competition and we asked our Governors to judge for us.
ASDA in Worksop and Home Bargains in Rotherham donated an amazing amount of Easter goodies to give to our winners. Because of their generosity we were able to award 4 prizes in each year group category and an extra Governor's award.
We wrote to ASDA and Home Bargains to say a BIG thank you for their wonderful donations and also wrote to our Governor's to thank them for judging!
Thank you to everyone who entered, we raised £120.00 towards our playground fund.