Forest School Sessions
. 2022-2023
Now you see us ...now you don't,
After school club were busy in the woods today using flint and steel to create fire. When it started to get a little bit cold we decided to keep warm and have fun in the bothy bag. Click the video above to watch us having fun.
After school club were busy planting Winter Pansies into our wooden pallet. .They then continued the session making nature crowns and exploring the woods.
After School Club
Whittling our own sticks, hot chocolate made from the water we boiled in the Kelly Kettle and toasting marshmallows after school …. What more could you want !!!
One child remarked .,,, I'M LIVING THE BEST LIFE EVER
So do you ever wonder how we bring all the equipment back from the woods ? Click the clip below to find out !
September 2023
Both Year 2 classes had great fun exploring the woods . First the children went on a journey of their choice and added natural items that they found of interest along the way onto their sticks. After they'd completed their journeys, we encouraged the children to show what they had made to everyone else. We asked them talk about what natural items they had chosen and why they had added them to their sticks. They later used their sticks to help recall their journey, memories and experiences.


Today we had a go at making Japanese art using natural materials. This is called Hapa Zoma. We looked at the different kinds of foliage to use best and realised that the dry leaves would not work. During reflection time the children realised that all the patterns were different and they reminded them of things like butterflies, trees and meadows.
Thanks to the amazing Mr Ball for making this forest nature table for the children to enjoy.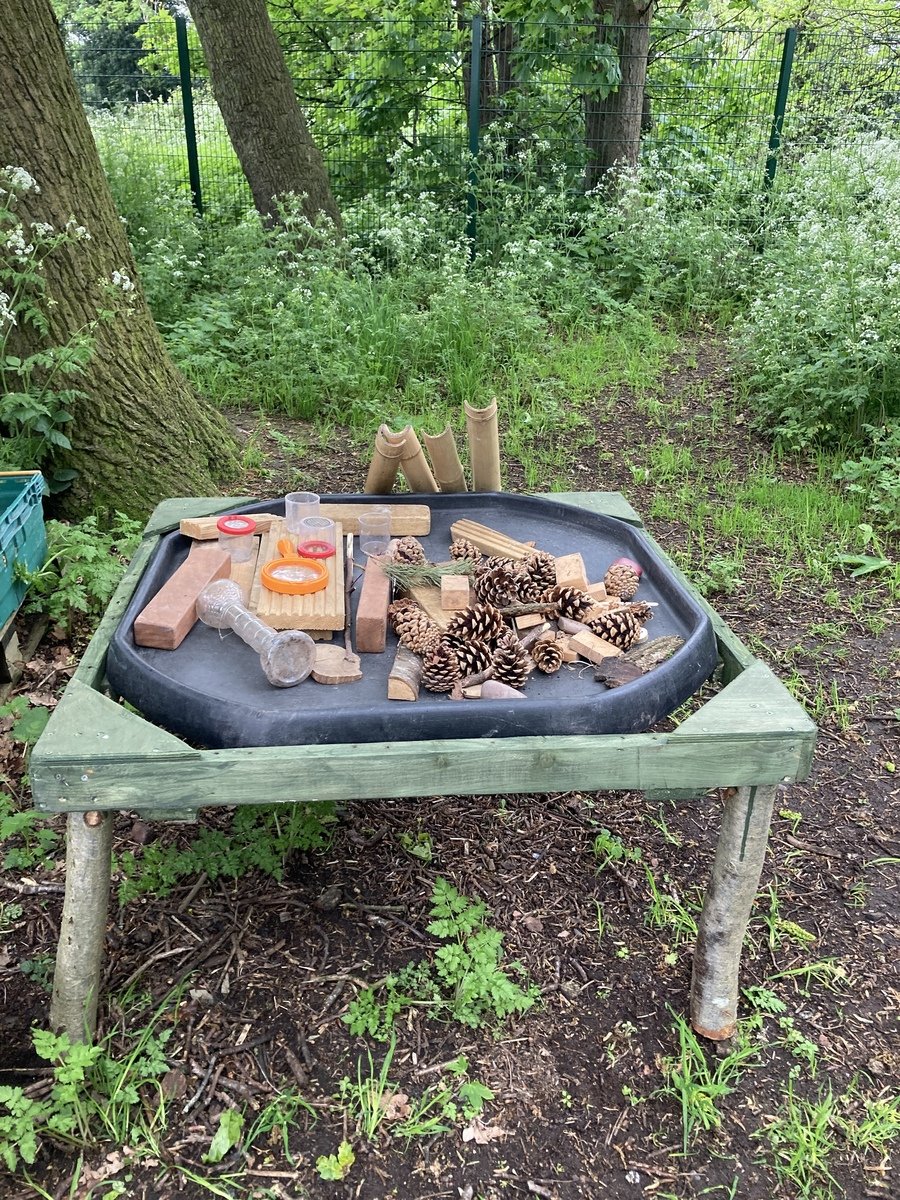 Today we were amazed by the changes we saw especially the Cows Parsley . All the rain and sunshine in the last couple of weeks had made everything grow really fast, some of the wild plants were taller than us! At the start of our session we were lucky enough to be able to spot a Great Tit visit our bird box. We spent the session exploring the woods and making our own nature bracelets/wristbands. As we collected our things for it started to get darker and colder as the clouds started to gather. Even though we were prepared for the rain it was not safe to stay in the woods knowing a storm was brewing so we decided to head back indoors.
This week, Year 2 had their final session in the forest and what a finale it was. There were marshmallows being roasted on sticks, magical flames on the fire, Easter hunts and most of all lots of happy forest explorers.
A big thank you to all the adults who supported these sessions, your help was very much appreciated .
Everyone was so excited as we got to toast Marshmallows
FOXES and BUTTERFLIES CLASS had their first session in the woods. First we spotted all the different signs of Spring. We then listened to the story of 'Bog Baby' sat amongst the trees on a big sheet of tarp. The children decided it would be fun to make their own Bog Baby and give it a home in the woods. After giving it a home we then played and explored and finished with a game of 123 where are you . We had lots of fun .
The children love taking care of the birds and animals and all wanted to make more feeders using left over pears and bird seed. We noticed the birds singing in the trees and the plants shooting through the forest floor.
Let's feed the birds!
To help the birds,Squirrel class chose to make bird feeders using pine cones, lard and bird seed. As you can see from the pictures some children enjoyed the feel of lard and others didn't. We all finished the session with Play and Explore. As you can see some children chose bug hunting, team games, mud kitchen and exploring.the woodland environment.
Squirrel Class January 2023
HAPPY NEW YEAR EVERYONE!
Today was the first session of a New Year. We all had a lovely time learning about the safety and boundaries within the woodland alongside lots of team games. We looked out for different foliage and which ones to touch and not to touch. Learning how to tie a knot using hazard tape was a tricky challenge but we all persevered and put our sticks in a place to help others spot a hazard. We finished off with 1,2,3 where are you and then went back to class to get changed.
Thank you to all our volunteers for your help.
Badger Class had a magical time in the woods today. Even though the weather was still really cold we kept warm by playing games around the fire circle and wrapping up warm. We then made sleigh bells using sticks that were found on the forest floor and practised our knot tying skills.
Ladybirds class had beautiful frosty woodland day today . We all wrapped up warm and looked at all the different changes that had happened to the leaves, trees and foliage. The spider webs were fantastic to look at. As the temperature dropped we decided to go inside and finish making our Christmas sleigh bells that we found around the woods. We all sang Jingle Bells and were delighted to find out that the sleigh bells we made were a gift from the woods and we could take them home to keep.
Today was Badger's class to explore the woods. Everyone was so excited and had a fantastic time discovering and learning about nature. SEE YOU ALL NEXT WEEK x
There was a Gruffalo in our woods today ! A Gruffalo …why didn't you know!
Ladybird Class had a fantastic afternoon exploring in the woods. Even though it was raining, the children didn't complain once as they all came dressed appropriately . Well done Ladybirds.