STAY & PLAY
Every Tuesday 9am to 10.30am Term-Time Only
The sessions are for families with babies and pre-school children (Mums, Dads, Carers and family members - welcome)
Join us for lots of fun activities and exciting things to do that offer you and your child a chance to play and learn
The group is lead by Mrs Reynolds, one of our experienced teaching assistants and Mrs Simpson who also works closely with our children in school
If you would like any further information, please call 01909 486374 and speak to either Mrs Reynolds or the school office.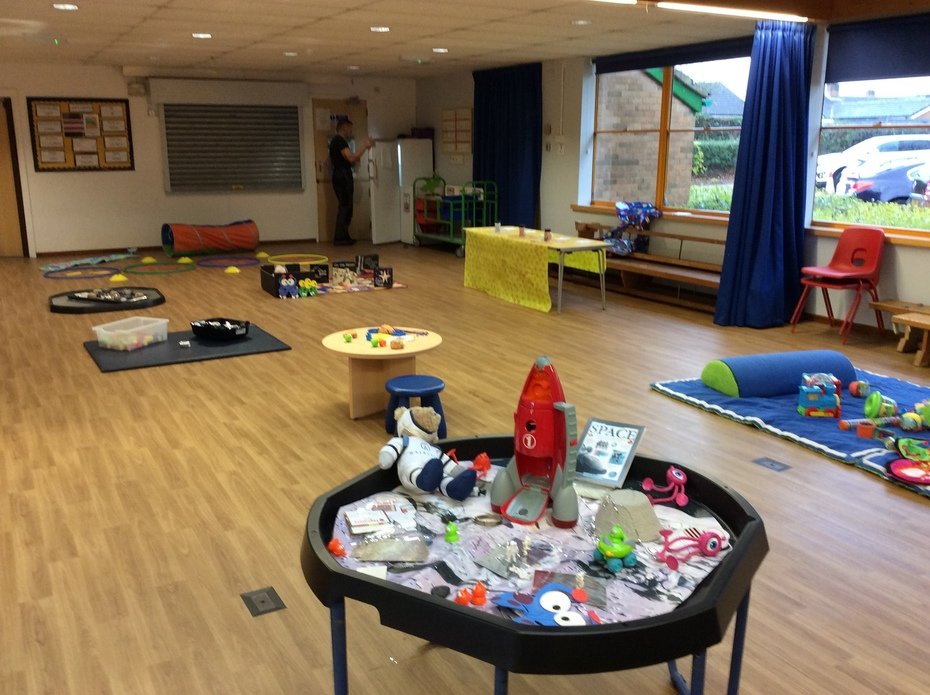 Our provision includes:
Heuristic Play
Play Themed Weeks
Areas for development for 0-5 year olds
Songs and Rhyme session
Healthy drinks and snack
Jack Frost came to visit us this morning but the cold didn't bother some children and babies to still come along and join us at Stay and Play; thanks to the parents/carers for making it possible ! We explored the outside frost indoors and had lots of fun doing so! A big welcome to our new visitors and we hope you enjoyed it too :)
We all played well together this morning during stay and play. We shared the toys, played with our friends and had lots of fun. Great enjoyment was taken by all whilst we printed collaborative handprints on the big piece of paper to support Anti Bullying week. To finish off our session the children sang so well together to all their favourite songs. See you all next week .
We all had a spooky morning dressing up, exploring with a pumpkin and jelly, making sparkly witches hats, dressing up plus lots more.The children; and adults, especially enjoyed our spooky snack of witches fingers, finger nails along with juicy flies! Great singing today children too. Our favourites today were Farmer Ben, Hickerty Pickerty my Red Hen and the train station song. See you all after the October half term x Have fun and stay safe :)
Well the rain didn't stop our Stay and Play children and grown ups. We all had fun playing with the instruments, making leaf paintings and experiencing warm glittery play dough.
Yet another great Stay and Play session. Thank you to everyone who came along to join me. We all had so much fun!
Thank you to everyone who joined our Stay and Play sessions this year. We've all experienced lots of different activities including different texture/senses, created amazing pictures, played with our friends, learnt nursery rhymes/songs with Mrs Reynolds and most importantly had lots of fun. Have a safe summer and we'll hope to see you in September from Mrs Reynolds & Mrs Simpson
What a wonderful Stay and Play session ! We've had children balancing on planks, painting with spaghetti bundles, exploring in the edible construction site, flower arranging, baby footprints , sleeping amongst the calming smell of lavender, eating toast and last of all singing our favourite songs ! Thank you everyone for joining us especially to our newest member who didn't want to go home as he enjoyed himself so much ( can you see which child didn't want to go home amongst the pictures?) :)
Even though it was pouring it down with rain, the adults, children and babies still took the time to get ready to join our Stay and Play morning; and what a fabulous time we had ! Thank you everyone for joining us especially to our newest and youngest addition to the group
We all had fun playing with the Zoo themed activities including a special request of 'baby shark' during our singing session.
A few themed sessions taken place in Stay and Play
Happy Easter everyone ! We all had lots of fun with the Easter themed activities. After tidy up time we sang Peter Rabbit, sleeping bunnies and listened to the Little Nut Brown Hare story during our singing carpet sessio.